Frugal Real Food Meal Plans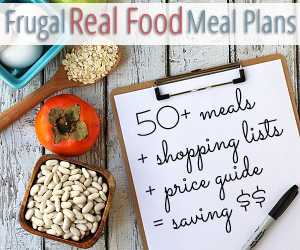 If you've been following my Meal Planning series recently (see Step 1 and Step 2), then you know meal planning obviously takes some time and preparation. While making your plan and prep lists can be enjoyable and fulfilling for some, others would rather have someone else do that part for them. <— If this is you, keep reading!
Also, we all know that Real Food can be more expensive, ESPECIALLY if you aren't planning or using ingredients to their fullest extent. We are all looking for ways to save money while still eating Real Food, am I right?!
I now have a solution for both the planning/prep list AND the money challenge.
Frugal Real Food Meal Plans is launching TODAY, Dec. 29th. And they are even running a special introductory price through Jan. 5th! Yipee! I love sales! Seriously folks, for the price that you can get during the promotional time, it is WELL worth it.

What the Frugal Real Food Meal Plans Include:
A Full Month of Dinners
Bi-Monthly Shopping Lists
Tips for hosting company
12 Breakfasts

12 Lunches

Weekly Shopping Lists (for produce)

Frugal Recipe Modifications
Tips for Freezer Meals

Slow Cooker Meals

4 Healthy Dessert Ideas

Tips for Saving Even More
Bi-Monthly Prep List

Price Points for Each Item

Planning Printables (so you can personalize)
She offers a FREE 14-day PDF download so you can try it out first. It may not be for everyone, but at least you can give it a 2-week trial run and then decide!
December 29, 2014 – January 5, 2015
3 Month Membership – $13/month
6 Month Membership – $12/month
12 Month Membership – $9.99/month ← BY FAR THE BEST DEAL!
(Membership fees are billed monthly. Prices above only valid December 29 – January 5. They will change effective January 6, 2015.)
You can save an additional 20% off the 12 month membership – making it just $7.99/month – when you pay in full using a coupon code (will be provided before the sale starts) <—-I will update this area with the code once it's released. For now, just follow my links here to the Frugal Real Food Meals plans!
With a 12 month membership, this subscription is just $1.84 each week – the equivalent of a bunch of bananas at the grocery store!
BONUS! Making a purchase during this promotional period secures the monthly rate. When it's time to renew the subscription, you can take advantage of the same low monthly price!
Are you ready to save yourself some TIME, MONEY, SANITY and still feed your family Real Food?! I am! Let's do this together! Check it out here!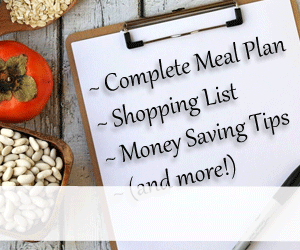 Disclaimer: I have an affiliate relationship with Frugal Real Food Meal Plans and will make a small commission with each sale. I only choose to promote products and services that resonate with the Real Food – Holistic Health – Nutrition focus of my blog. Thanks in advance for supporting this part-time job with your purchase through my links!
Comments